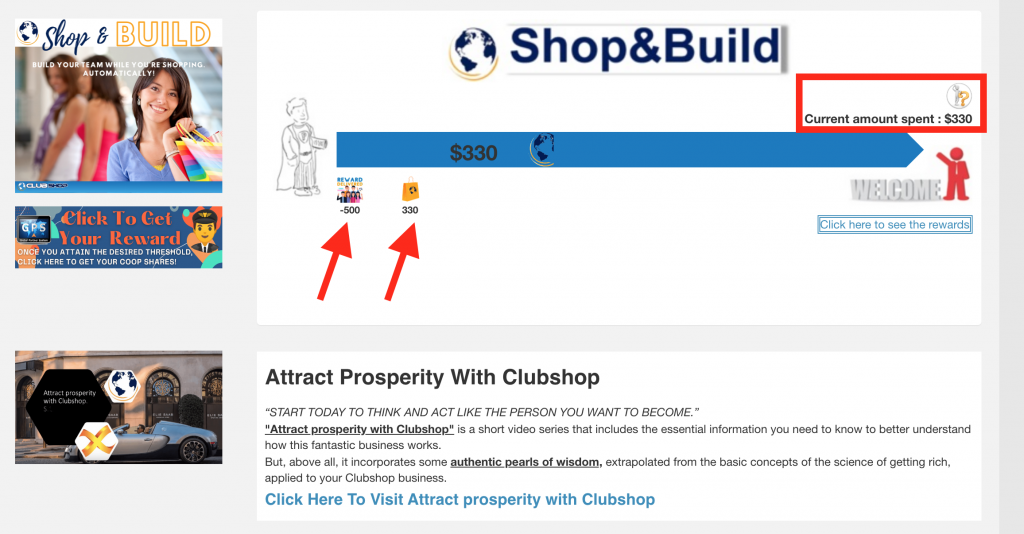 We designed the new Shop&Build program, perfectly in line with our missions, to help you build your Clubshop team and market even while you shop online, automatically.
With no obligations on your side, every time you make a purchase at hundreds of ClubShop malls stores worldwide (excluding Amazon) you earn credit to gradually attain the predefined thresholds.
Each time you hit one of these thresholds we automatically assign to you a certain number of coop shares.
For example: once you reach $500 spent anywhere at the ClubShop mall's stores (Amazon excluded), you're entitled to receive 10 COOP shares.
This is a great incentive that will not only help you build your team automatically, but it will also help you to earn juicy commissions coming from thousands of purchases made by fellow partners of your team throughout the months and years to come.
You can redeem your rewards whenever you want, by clicking the button on the left side of your dashboard, as shown in the image above.