A great incentive to help you build your Team of Partners AND Lead By Example!
We launched a new exciting challenge for you, with outstanding prizes!
We'll reward the 10 of you guys who get the highest score through all the actions listed below performed within the following timeframe: 
June 1st – June 30th, 2021 (not later than 23:59 London UK Time).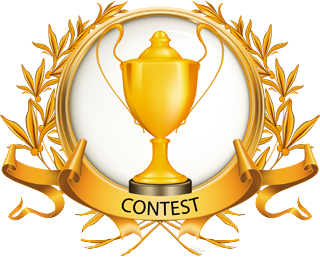 1) NEW GPS Subscribers: every GPS activated during the contest timeframe by your Personally Sponsored Members (all those you received through your GPS, additional COOP Shares or your Referral Links/Landing Pages) let you earn points depending on its type, as follows:
GPS Basic = 10
GPS Basic Plus = 20
GPS Pro = 40
GPS Pro Plus = 60
GPS Premier = 120
GPS Premier Plus = 240
2) COOP Shares: you earn 2 points for every additional COOP Share you order during the contest timeframe.
3) Clubshop Mall Purchases: you earn 3 point every $10 spent in a Clubshop Mall's Store.
4)
Personal Upgrade Bonus:
you earn 50 Points if you upgrade your personal GPS to a higher one during the contest timeframe.
NOTE: In the event of a tie, prizes will be split among those who tied.
Bear in mind:
In the event of a tie, prizes will be split among those who tied.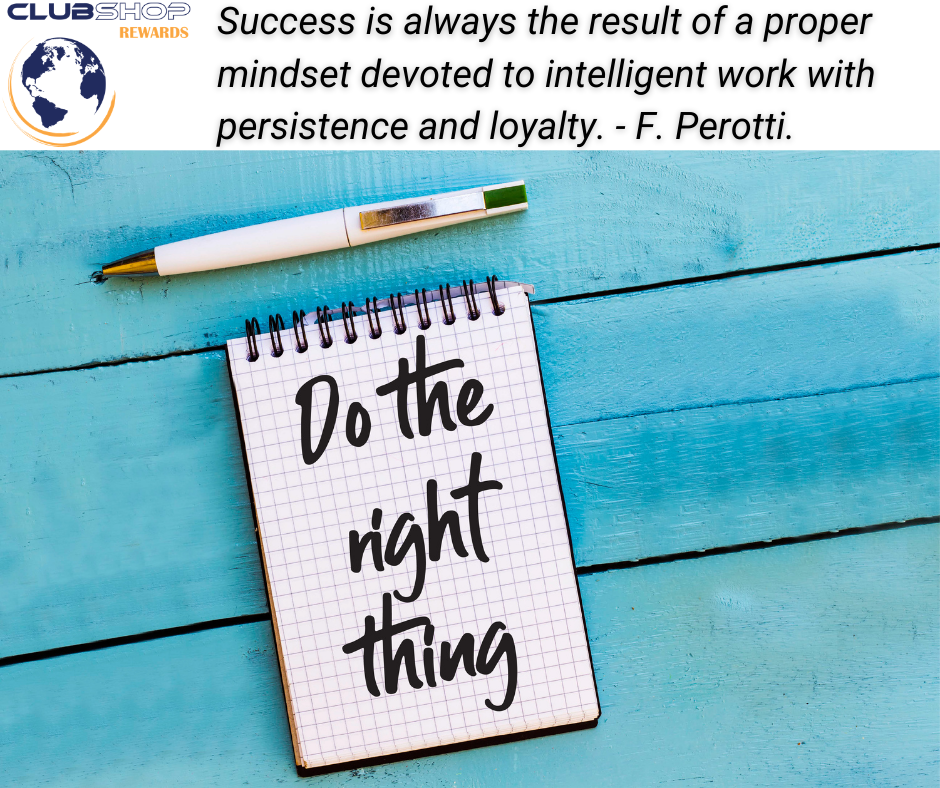 July 1st, 2021
We salute the 10 winners of the June Contest and all the participants!
👉 Congratulations to all of you guys; once more, it has been a great battle until the last day.
👏 Many others were very close! Good job, everybody!
🖐 We're not running a new contest in July, but we'll surely offer a new one shortly.
💪 Bear in mind the real aim of these contests, which must be intended as an additional incentive to help you lead by example, by doing on an ongoing basis the four fundamental actions you need to do to excel in this business.
Follow-up with your teammates and help them to understand this business and possibly confirm their GPS.

Get COOP Share to ensure a good stream of new potential members for your Clubshop Mall market every month.

Be the first customer of your Clubshop Mall.

Upgrade your GPS to get the one you need to help your team as much as you can.
🤙 So, even if there is no contest in July, I invite all Partners to review as many times as needed the GPS Essential Training to become experts in this business and make sure you're performing your role as proud Clubshop Partners as you should.
🤟 Your teammates will be grateful, and so will your bank account!
🙏 Thanks for supporting Clubshop and spread its noble mission worldwide while we're moving together throughout the six phases of the big project!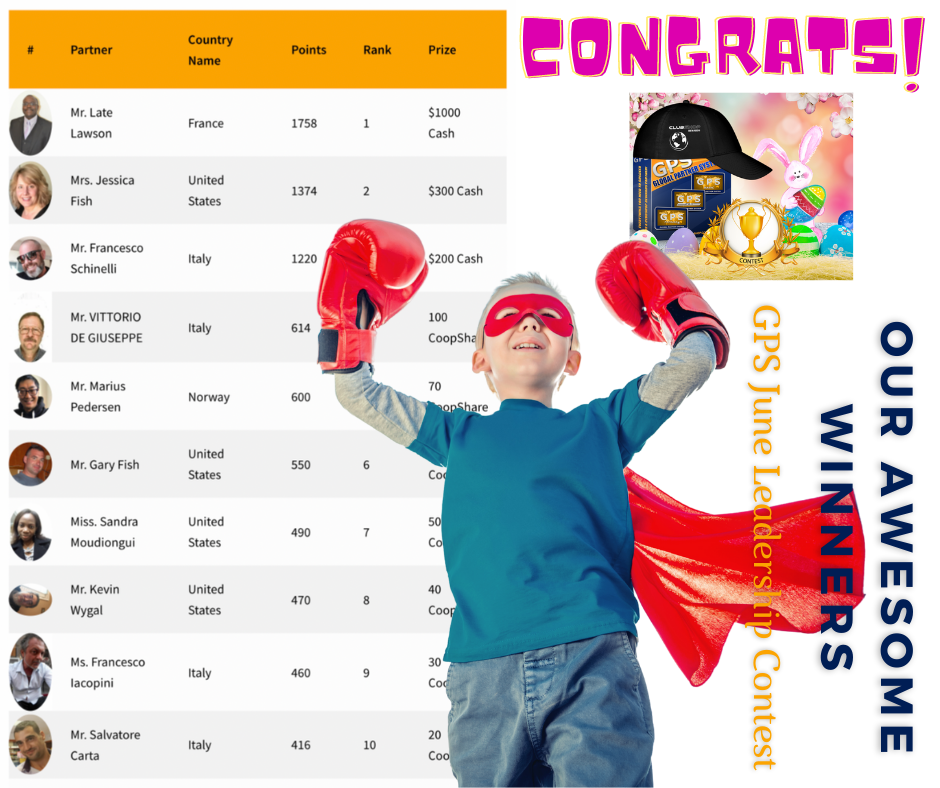 June 1st, 2021
🚀 We Have The May WINNERS!
It's been a great battle until the last minute.
In the end, on the podium, we have Jessica (US), Laté (FR), Jorge (US). Below you see the complete list of winners for May:
Mrs. Jessica Fish
Mr. Late Lawson
Mr. Jorge Cancio
Ms. Francesco Iacopini
Mr. Marius Pedersen
Mr. William Glover
Sam Nikkel
Mr. SALVATORE MONTAPERTO
Brian Gibson  AND  Mr. Joseph Nyieth
Mr. Kenneth Harris

Congratulations to all of you guys!
You will receive your prizes very soon and don't forget to select the Clubshop item you are entitled to order FOR FREE, as explained on this page.
Thank you to all the other participants too!!!
The new contest has started today! You see this page already updated.
🔥Who's going to make it in June? 🔥
May 1st, 2021
🚀 CONGRATULATIONS!
🔥 WE HAVE 10 APRIL WINNERS!
👉 We had an exciting April's contest ending. Until the last moment, the top positions remained within reach of every contender. Everyone wanted to take first place, and in the end, he won it by a few points clear of an excellent Sam Nikkel, Laté Lawson from France, thanks to a Premier Plus Partner who activated his GPS a few minutes before midnight.
The amazing Ms. Odsuren Gendensangi from Mongolia secured third place thanks to the many personally sponsored Partners during the month. As well as the excellent Mr. Alimaa Bathuyag, also from Mongolia and in her first month of activity, winning a sixth place on a par with the great Marius Pedersen of Norway.
But the applause also goes to all the awesome partners who finished in the remaining top positions: Kenneth Harris 4th, Vittorio De Giuseppe 5th, Salvatore Montaperto 7th, Francesco Moro 8th, Mustapha Ledou 9th, Maricel Pedersen 10th.
But the list of participants is very, very long, and many of them were by no means very far apart.
So congratulations to everyone, and don't despair! You immediately have the opportunity to make up for it!
In fact, in May, we will repeat the contest! Everything produced from 0h00m on May 1st is already valid for the new contest!
So, get your spirits up and stay on track!
Life is beautiful, and with Clubshop, it can be even more so! 
Below you see the final April Rank.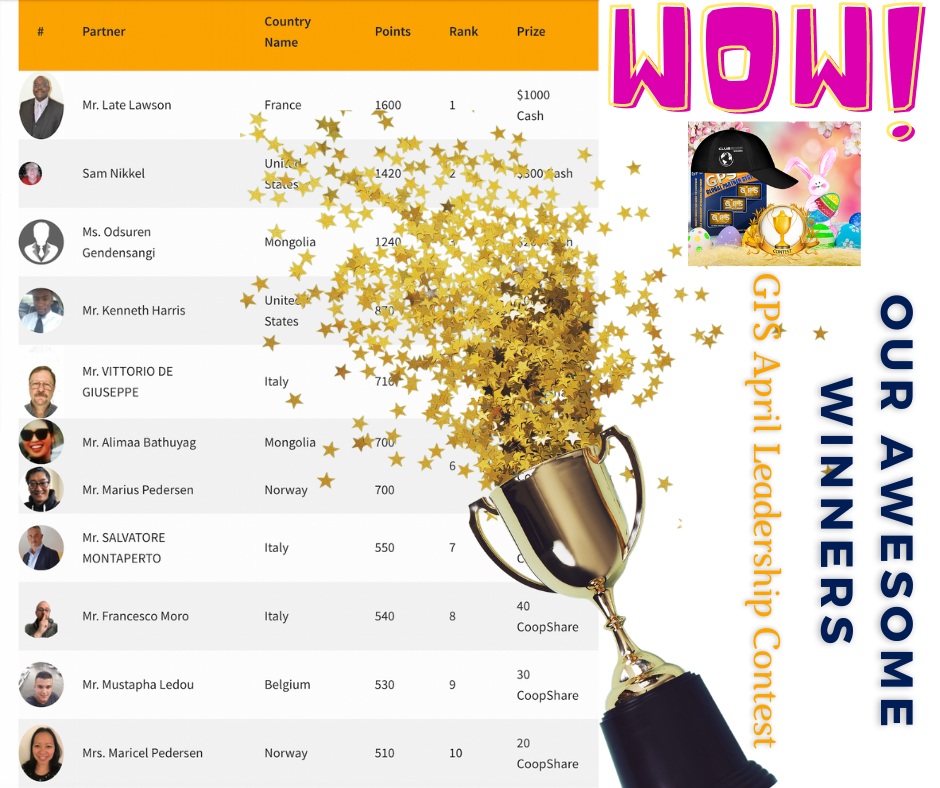 | # | Partner | Country Name | Points | Rank | Prize |
| --- | --- | --- | --- | --- | --- |