Follow Up > Video Welcome Message (GPS Premiers Only)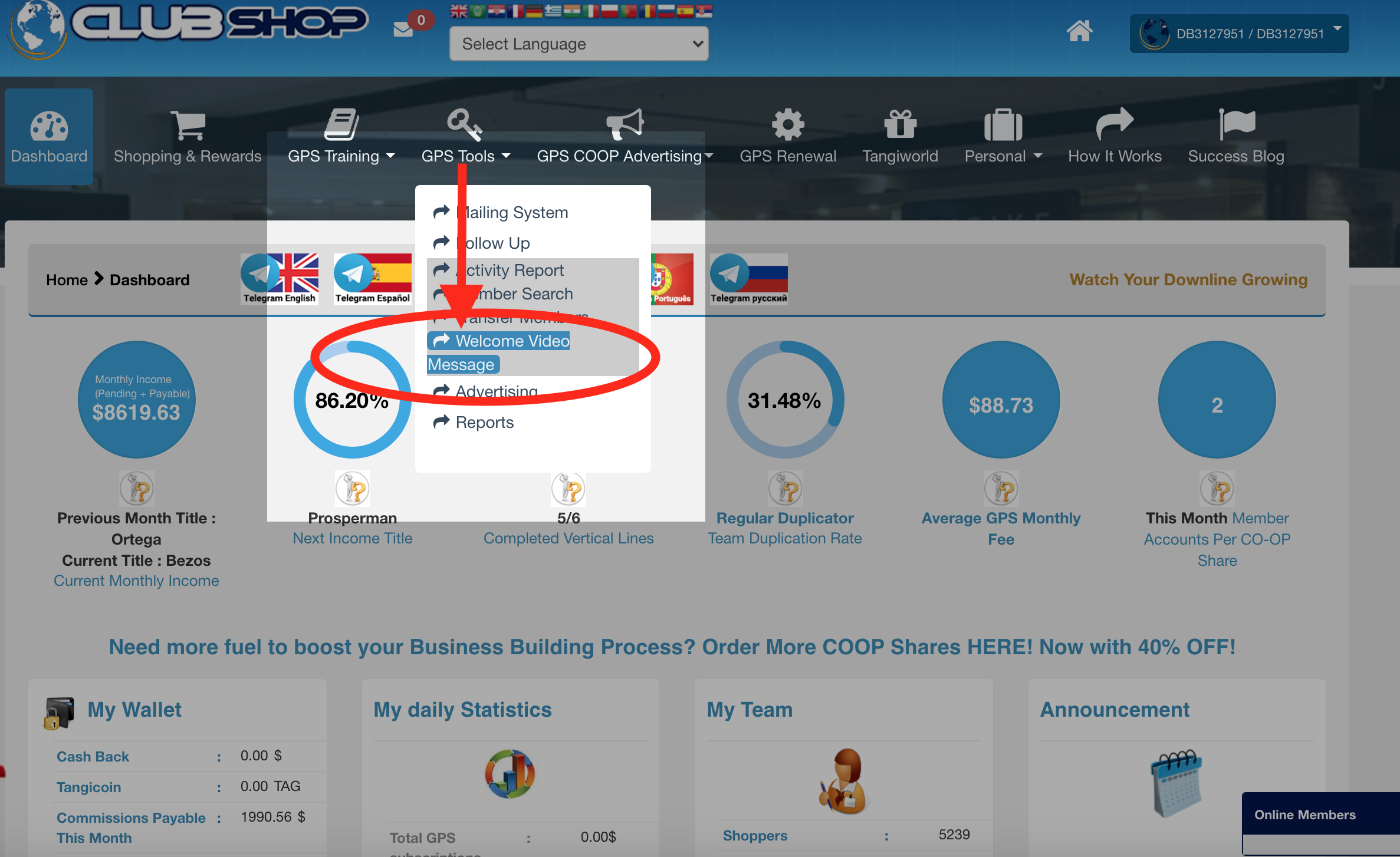 As a GPS Premier subscriber, you can post on Clubshop's YouTube official channel a video message to welcome your team's incoming affiliates.
They will see your welcome message on their dashboard.
We strongly encourage you to take advantage of this option. 
Why? 
Remember that your primary role as a Partner is to bring that genuine human touch that your affiliates need right after joining and then all along the way.
GPS runs your business on auto-pilot, but no machine can replace the awareness of having to do with real, honest, and strong-minded people, ready and willing to help you achieve the same goal of financial freedom.
So, if you have this vital GPS function enabled, don't wait any longer and follow these instructions:
1) make a short video introducing yourself as their upline sponsor.
Tell them what you think is right for them to know at this time. Be creative. 
If you need a few ideas, see below, and always bear in mind that here is where you start to build your credibility as an online entrepreneur and coach.
Offer them your support and tell them how they can find your contact detail in their dashboard.

Invite them to book an online meeting on your GPS schedule to get to know each other personally.

Invite them to join our online community on Facebook and Telegram.

Tell them what you love about your Clubshop business.

Tell them how skeptical initially you were and what let you change your mind.

Are you enthusiastic about Clubshop? Then show your enthusiasm!

Remind them this is a reliable business that they need to build month after month. Certainly not in a few weeks.

Try to be creative, and if you feel like smiling, smile! You don't need to look too severe or overly professional. Nevertheless, wear at least a nice shirt or something similar. Don't be naked or in an undershirt only.

Tell them whatever comes from your heart that you think could be of help to them.
2) once you're happy with your new video, upload it through your dedicated link here. 
3) once approved, we'll put it live.