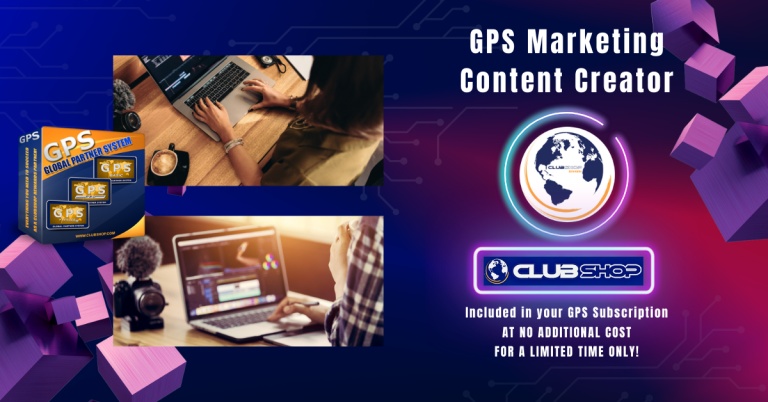 What Do You Want To Create Today?
Are you ready to take your marketing efforts to the next level? Then you're in luck! We're excited to introduce the GPS Marketing Content Creator, exclusively available to our GPS subscribers.
This tool allows you to create unique and engaging marketing content that will help you connect with your prospects and customers.
And the best part? It's currently included in your GPS subscription at no additional cost. While we hope to keep it free, we cannot guarantee it at the moment.
But don't worry; we'll keep you updated on any changes.
We're currently in the pre-launch phase, and we'll keep adding new components all along the way to help you market and develop your Clubshop business in a super pleasant and easy way.
The possibilities are endless, from crafting a warm and inviting welcome message to create compelling content that invites shoppers to grab the best Clubshop Mall special offers, coupons, and cashback.
So, what are you waiting for? Start testing the Marketing Content Creator today by creating a welcome email for your Personally Sponsored Affiliates, watch the video tutorial you'll find there, and get ready to take your Clubshop business to the next level once additional components are released.
Remember, we're always here to support you, so don't hesitate to reach out to us if you need any help or have any questions.
Thank you for being a Clubshop GPS subscriber.
We appreciate your support and are excited to see the amazing content you'll create with our Marketing Content Creator tool!
Sponsor's Welcome Email
Create a friendly email template to introduce yourself to new affiliates and establish trust.
Email Subject Creator
Craft the ideal subject line for your emails with ease to improve your email open rates.
Get inspirations
Get inspirations about what to communicate about your Clubshop business
Email To Inactive Affiliates
Email inactive teammates to encourage action for your Activity Report follow-up.
A Message About Any Topic
Craft an email message for your Teammates about any topic you wish, using your personal writing style, tone and mood.
GPS Testimonial
Inspire Others: Share Your GPS Platform Success Story
GPS Keywords
Generate a list of keywords for a landing page that sells the GPS Platform.
GPS Describe The Product
Craft an optimized "Describe the product" text of Max: 2500 Characters for your 5B GTS.
Clubshop Describe Your Business
Craft an optimized "Describe Your Business" text of 500 to 2000 Characters for your 5B GTS.
GPS Facebook Post
Generate compelling Facebook posts to invite users signup directly at your preferred landing page.
Create a viral tweet
Generate a tweet that would be likely to go viral about any topic you want.
Short-Form Videos
Research the best hashtags for your Clubshop videos and create a short-form video script.
Perfect post for all Platform
Craft a winning social media post with top-performing hashtags to maximize reach across all platforms.
Image Creator
Easily generate custom images that perfectly match your content.