The ultimate scope of the Clubshop affiliate program is to create powerful synergies among retailers, end consumers, and affiliates to bring tangible results to our online and offline merchant affiliates through a proven strategy, improved throughout the years, that increases end consumers' buying power and simultaneously produces commissions for our affiliates, based on the continued consumption of millions of everyday products and services worldwide.
Who can participate?
Anyone who has reached the age of majority in their country of residence can benefit from our affiliate program.
Every person can have only one Clubshop account and is allowed to change their original sponsor only six months after the cancellation of their previous membership.
Commissions payments.
Clubshop sends monthly, to each affiliate, the balance of their payable commissions existing by the last day of the previous month.
Cancellation Policy.
Every affiliate and partner can immediately cancel their membership by clicking the "Cancel Membership" button on their Clubshop profile page.
After cancellation, a former member can sign up again only with the same sponsor. Former members who want to change their sponsors must wait six months to signup again.
The GPS doesn't need to be canceled. If you don't renew, it will be deactivated automatically unless you have a GPS Pro5B, which needs a single initial payment and no expiration. In that case, you can delete your membership through the Clubshop profile page at any time.
For detailed Terms & Conditions, please see this document.
Every Clubshop Affiliate has access to the GPS Essential Training from the training menu available on their dashboard.
Affiliates Vs. Partners.
Everybody can signup as an affiliate for free and with no strings attached.
Affiliates earn 50% direct commissions on the GPS Sales they produce through their dedicated landing page.
Every affiliate can qualify as a Partner in a given month, depending on the number of GPS Sales they produced for that month.

The easiest, fastest, and most secure way to get and keep qualified as a Partner every month is by subscribing to one of the GPS versions, as listed here.
Partners earn direct and override commissions on a full organisation of Shopper Members, Affiliates, Partners, merchants, and Affinity Groups. Partners are also entitled to commissions and bonuses on every GPS subscription activated in their organisation. They earn a 50% direct commission called the "Fast Start Bonus" on every initial GPS subscription their referral may buy at any moment.
Global Partner System (GPS) Program Concept.
Every person can decide to subscribe to GPS at any moment and be instantly qualified as a Clubshop Partner.
As a Partner, it is like being the owner of a vast online shopping mall with its dedicated automated marketing platform and CRM system.
Typically, to start any business, you need to make large initial and ongoing investments. Instead, purchasing a GPS subscription allows you to get started right away as a Partner with nothing more than a risk-free minimal monthly fee.
GPS provides you with training, support, tools, and reports – everything you need to start and run a successful retail business online. And by subscribing to GPS you automatically qualify to be a Partner.
In other words, as a GPS subscriber, it's like having your own retail company without taking care of any department, as we do on your behalf.
You remain with the most pleasant and simple tasks, like using the GPS Tools to interact friendly with your Clubshop teammates.
GPS NO Refund Policy.
Every GPS subscriber can stop paying their monthly fee at any time, but with no exception, refunds are not possible. We're sorry.
Partner's grace period and termination.
Apart from the GPS Pro5B, the GPS is a 30-day pay-as-you go service. At any moment, you can decide to upgrade or downgrade your GPS type, and at every monthly renewal date, you can decide to renew your GPS or not.
If you don't pay the renewal, you enter a 30-day grace period. During the grace period, you can't earn any commission.
At the end of the grace period, if you haven't paid for a GPS, you are automatically downgraded to the affiliate status. All your credits and benefits as a Partner are forfeited with no possibility of returning them.
A late payment during the grace period doesn't extend the 30-day cycle of your GPS.
Clubshop Mall Commissions.
The entire GPS Compensation plan detailed below is designed to pursue the Clubshop Mission and aims to gradually build a shared market with thousands of online and offline shoppers for your Clubshop Mall from all over the world.
That's what enables you to build a monthly passive income based on the sale of millions of everyday products and services available at hundreds of big-name stores purchased by thousands of Clubshop Members worldwide.
We reward your members with Cashback at every purchase while you earn a commission on each one of these purchases—an actual win-win situation.
Click Here to see how to calculate your TNT commissions from Clubshop Mall's Store sales.
So, whenever you work at your Clubshop Business, keep in mind your ultimate goal, which is not just to earn the (..juicy) direct commissions included in this compensation plan.
Your ultimate goal is to achieve the "Prosperman" Income title to enjoy the corresponding minimum monthly income of $10,000 per month.
Play With The GPS Earnings Calculator
For example: throughout the months, your GPS builds a global shared market for your Clubshop Mall with 10,000 members from all over the world. Let's say their purchases produce a $1 average monthly commission for you. Good! You're earning $10,000 per month.
See this video to have a better understanding.
Our exclusive GPS Progressive Commissions Plan is designed to incentivize real teamwork.
It's based on the concept that the deeper your GPS tangibly helps your downline teammates, the higher your rewards.
So, your GPS automatically builds depth in your organization, which eventually means more stability for your monthly income and more profitability for you at the same time.
And the best part is that the whole optimization is done automatically by your GPS System, even while you're sleeping.
It's a sort of Hybrid Plan because, on the one hand, it pays you the override commissions generated by a full six-generation Network Marketing organization and, on the other hand, it also pays you Direct Commissions, as better explained below, to help you earn a significant income possibly from the very first days or weeks.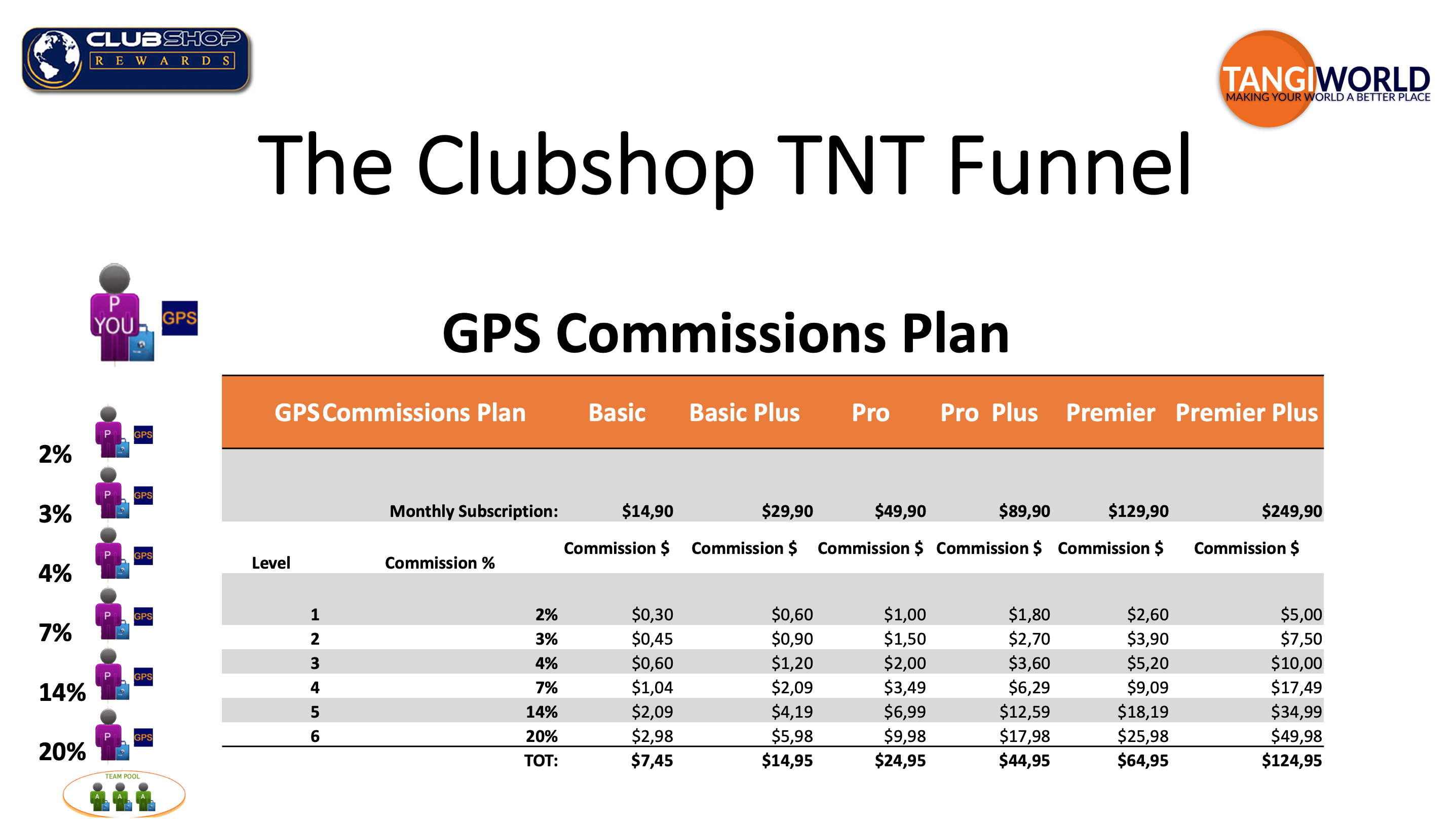 The deeper your GPS Subscribers are, the higher the commission percentage you earn on their GPS Subscriptions.
This is a GREAT Incentive for ALL Partners in your team to help each other build their own team, assuring the stability of everyone's monthly income simultaneously.
Of course, as a Partner, you also earn team Commissions based on any Clubshop Mall purchase made (online and offline) by Shoppers, Affiliates, Trial Partners, and Partners who are positioned anywhere in your entire 6-generation commercial network.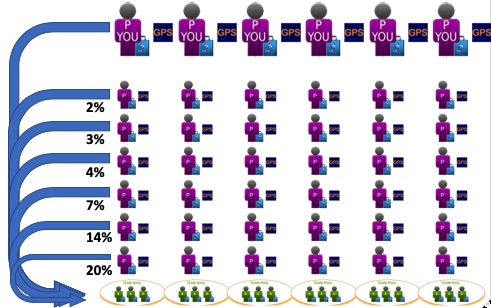 Partners can decide to stop feeding their bottom team pools when they have 6 Vertical Lines, each with 6 Partners deep.
They can then decide to start feeding other partners' pools to speed up the team's duplication factor.
Even if you earn on 6 generations "only," each vertical line can actually grow with no limit. This means that if, for example, one of your 4th generation partners cancels their GPS subscription, their entire downline of partners will roll up by one level. So, if you previously had partners in your 7th level, now they are in your 6th one, producing commissions for you too.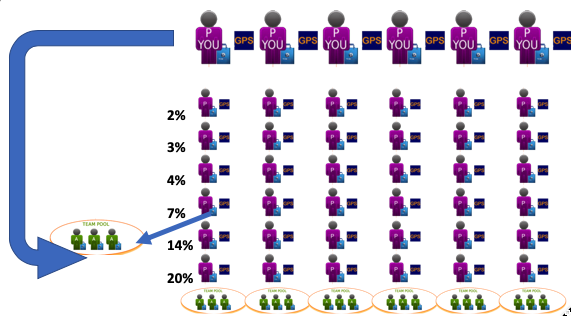 GPS Team Commissions 1st Example
As the GPS TNT compensation plan is based on clear figures and facts, there are no doubts about how much your monthly income will be, depending on your organization's actual situation at the end of each month.
Remember that this page's example includes the GPS commissions exclusively, considering the GPS Basic Plus at $49.90 as the average GPS subscribed inside your organization.
Additional Clubshop Purchases, which could be made by all your shoppers, affiliates, and partners, should be added as they are not considered here.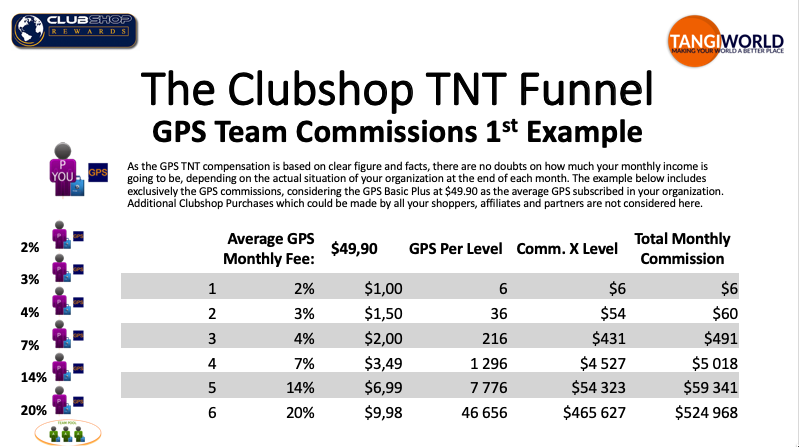 GPS Team Commissions 2nd Example
You don't need to develop a full organization to make good money.
In the example you see here, you see that you have only one vertical line, with a partner in your 5th level who has sponsored 6 GPS Premier PRO at $249,90.
Just for that 6th generation of yours, even if you only have a GPS Basic subscription, you earn: $249.90 x 20% = $49.98 $49.98 x 6 = $299.88/month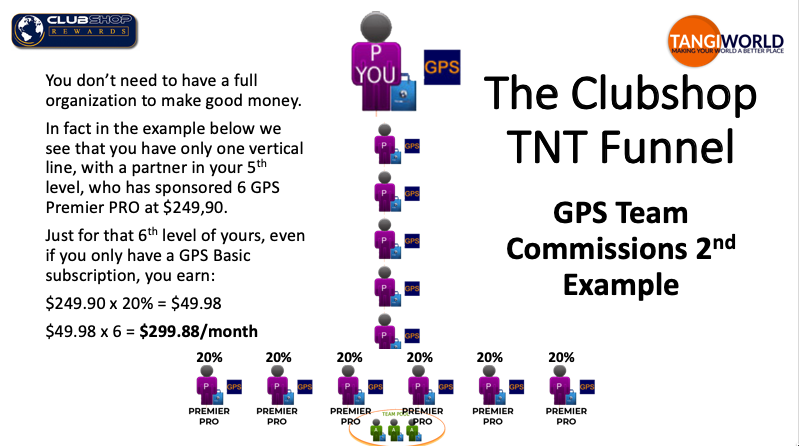 Suggested Strategy
1. Start with the GPS type you consider more adapted to your situation. You can always upgrade to a higher one or downgrade to a lower one at any moment.
2. If you need more members for your team to boost your growth, you can buy more advertising shares at any time through our Coop Advertising Program.
3. Every Partner's goal is to gradually reinvest a part of their monthly earnings to upgrade to a higher GPS type, including more benefits and more advertising shares to boost the income growth rate.
4. Each Partner's goal is gradually building an entire GPS Premier Plus organization.
5. You optimize your income growth by building depth underneath partners in your team—the best way to help them succeed. Your success will be a natural consequence of theirs.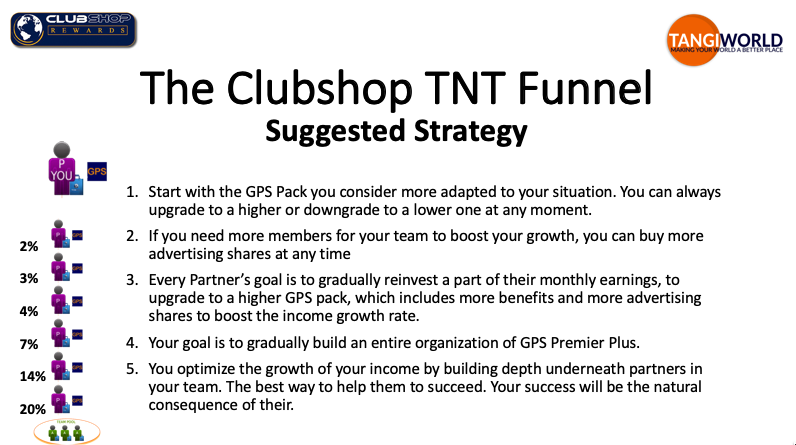 Income Titles
These are for fun and also to invite you to read about and get inspired by the billionaire's biography to which the monthly income threshold you've achieved is dedicated.
You can start reading about these billionaires at Forbes: https://www.forbes.com/billionaires/list.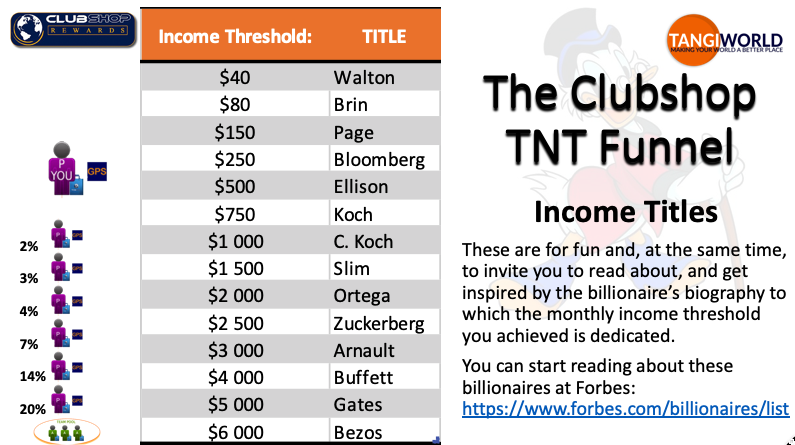 The Community Contribution
The More your Clubshop Business grows, The More Your Teammates Need Tangible Support From You. The Community Contribution concept helps you increase your income's stability and gives your teammates the security provided by active ongoing support from their upline coaches. You included.
As per the Community Contribution concept explained here, two conditions determine each income title: minimum income threshold and minimum GPS type.
For example, to qualify as "Ellison," your current monthly income must be at least $500, and you need a GPS Pro Plus to ensure the minimum support your teammates require.
Please see this video to get tips for better understanding Automatic Community Contribution Optimization.
HOW YOU QUALIFY AS A PARTNER
– METHOD 1
If you are the original sponsor of other members who produced at least the following Clubshop Mall Purchases (GPS subscriptions excluded) in a given month, you get qualified as a Partner for the next 30 days.
5 purchases for a total of $100 = GPS Basic
10 purchases for a total of $200 = GPS Basic Plus
20 purchases for a total of $400 = GPS Pro
30 purchases for a total of $600 = GPS Pro Plus
60 purchases for a total of $1200 = GPS Premier
80 purchases for a total of $1600 = GPS Premier Plus
– METHOD 2
The easiest, fastest, and most secure way to get and keep qualified as a Partner every month is by subscribing to one of the GPS versions, as listed here: https://clubshop.com/gps-subscriptions.aspx.
ORIGINAL SPONSOR DEFINITION
You are the "Original Sponsor" (OP) of all the people you referred to Clubshop through the following methods:
PERSONALLY SPONSORED MEMBERS DEFINITION
All people you referred to Clubshop through any of the methods listed above are considered as "Personally Sponsored" by you. No matter what generation in your team they currently are.
FIRST MONTH PARTNER DEFINITION
Every Clubshop Member who activated their GPS for the first time is a First Month Partner (FMP).
First Month Partners show up in all reports in yellow.
Fast Start Bonus
All FMPs produce a 50% direct commission (known as "Fast Start Bonus") to their Original Sponsor only. No other commissions were generated by their first month GPS subscription until January 26th, 2022.
TNT Activation Bonus!
Starting January 26th, 2022, we started to test a NEW Bonus for our GPS Subscribers. It's called "TNT Activation Bonus."
It's a 2% additional commission that we're paying to the first five upline Partners every time a "Fast Start Bonus" or a "Second Phase Bonus" are generated.
TNT Commissions
After their first month as GPS subscribers, if they renew or upgrade their GPS, all FMP keep their partnership and start producing standard commissions to their upline as detailed by the GPS Compensation plan.
UPGRADED PARTNER DEFINITION
Every Clubshop PARTNER who UPGRADES their GPS subscription to a higher one for the first time is an Upgraded Partner (UP).
For example, a GPS Basic subscriber upgrades their GPS subscription to GPS Pro for the first time as an Upgraded Partner.
Upgraded Partners show up in all reports in yellow.
All UPs produce a 50% direct commission (known as "Second Phase Bonus") to their Original Sponsor only. No other commissions are generated by his GPS subscription that month.
Original sponsor is eligible to receive the second phase bonus only if their GPS is not lower than the upgraded one.
After their first month as Upgraded GPS Partners, all UPs produce TNT standard commissions to their upline as detailed by the GPS Compensation Plan if they renew their GPS.
GPS DIRECT COMMISSIONS
As already explained above, as a Partner, you earn a 50% direct commission on every GPS first month subscription AND first-time GPS Upgrade (when a Personally Sponsored Partner buys for the first time a GPS Higher than the one they currently have) paid by any Personally Sponsored member of your team.
Direct Commissions are also known as:
Please click here to learn more about GPS Direct Commissions.GPS
Proprofit Worldwide Ltd. – 98 Chingford Mount Road – E4 9AA – London, UK | Company Number: 8525700
Copyright © 2018-2023 – Clubshop Rewards Program by Proprofit Worldwide Ltd.