Complete the 2nd step now:
Become a Partner Automatically, With NO COSTS, NO OBLIGATIONS, NO Credit Card Required!
Let us put your business on autopilot!
Watch Your Income Growing Within Hours!
Our NEW FREE 30-Day Program truly allows you to see how our "Global Partner System (GPS)" works for you 24/7. You can start earning REAL PENDING commissions first and decide to activate your GPS or not, after. Learn More In The Next Page!
You'll Love What You'll See
"100% of the people who have fully understood this business are enthusiastic about it.
That's why we want you to try it for free, start seeing the potential earning with your eyes, and decide later what to do. Isn't it fair?"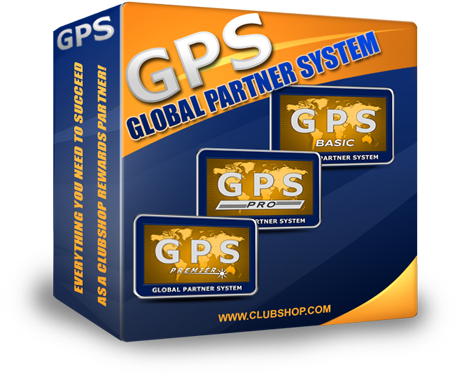 GPS stands for "Global Partner System." It's a complete business service, which includes your own Online Shopping Center with hundreds of big-name stores in it, ready to generate sales for you.
GPS comes with an advanced CRM System, a unique, automated business-building system and its training.
As GPS puts your business on auto-pilot, it enables even a computer or networking novice to build a successful business from scratch and create a genuine, passive income.
The Clubshop Global Partner System (GPS) provides EVERYTHING you need to succeed. Including Company's Advertising Shares, which allow you to get new loyal customers for your New Online Shopping Center, with no effort on your side, every month!and
Select The 30-Day Trial You Want To Start
You get full FREE access to GPS services listed below for 30 days. At any point during the free trial, you can decide to confirm your GPS to avoid the risk of losing your pending earnings and the team we'll build for you.
If, for any reason, at the end of your trial period, you're not interested in your GPS, no problem! We'll just delete your pending commissions and assign them to another partner.
BEAR IN MIND: during your 30-Day Trial you can upgrade your GPS Trial to a higher one, but you can't downgrade it to a lower one. 
Free 30 Days
Cancel Any Time
Free 30 Days
Cancel Any Time
Free 30 Days
Cancel Any Time
Frequently asked questions
Clubshop Rewards is owned by Proprofit Worldwide Ltd., London – UK

I Love Clubshop! Not only because of the opportunity and the genius behind this system. Kudus to my upline. When there is a challenge to solve, everybody is engaged in finding a solution. And the challenge is solved within minutes. I never experienced a team-spirit like this in any other company! My advice to every new person here: get registered, become a Trial-Partner, see how it works, and then become a partner and be part of this mission. Put effort into getting to know the business by reading in your dashboard and watching the videos. PUT IN YOUR EFFORT!!! Share your link and invite people to the business!
Today I received my 4th payout from Clubshop! Out of the total $380 there were $244 TNT commissions (residual income) and $136 fast start bonuses and shopping commissions.
Excellent plan, Excellent tools, Excellent support!
With very little work on my part, I have received a paycheck!! Simply amazing!
Got my third withdrawal! Love Clubshop! And a paydays! :)😍
Quite normally I doubted Clubshop at the initial stage. But with passage of nearly six month, I have been paid back honestly. Hesitation at the starting is normal. Act positively, Clubshop will reward you. Thanks Clubshop.
I've been with Clubshop only a couple of months and made my first commission in my first month. Now, I have over 70 partners in my team.